Kistar Hotel has 11 rooms, ranging in size from 30 to 110 m². Our room types consist 4 standard, 3 deluxe, 4 suites. Each room is individually decorated for the comfort of our exclusive guests. You can enjoy watching the balloons as soon as you wake up in the morning in our rooms with terrace overlooking the unique Pigeon Valley view.
101 | Superior Cave Suite
A garden extending into the of Guvercinlik Valley, is a few hundred years old; It is a suite consisting of two spaces and provides the atmosphere of ancient centuries to our guests.
102 | Premier Cave Room
When we entered through the door opening to the garden we feel that it was designed by unknown hands the world of imagination in the traces of the past that wrapped us.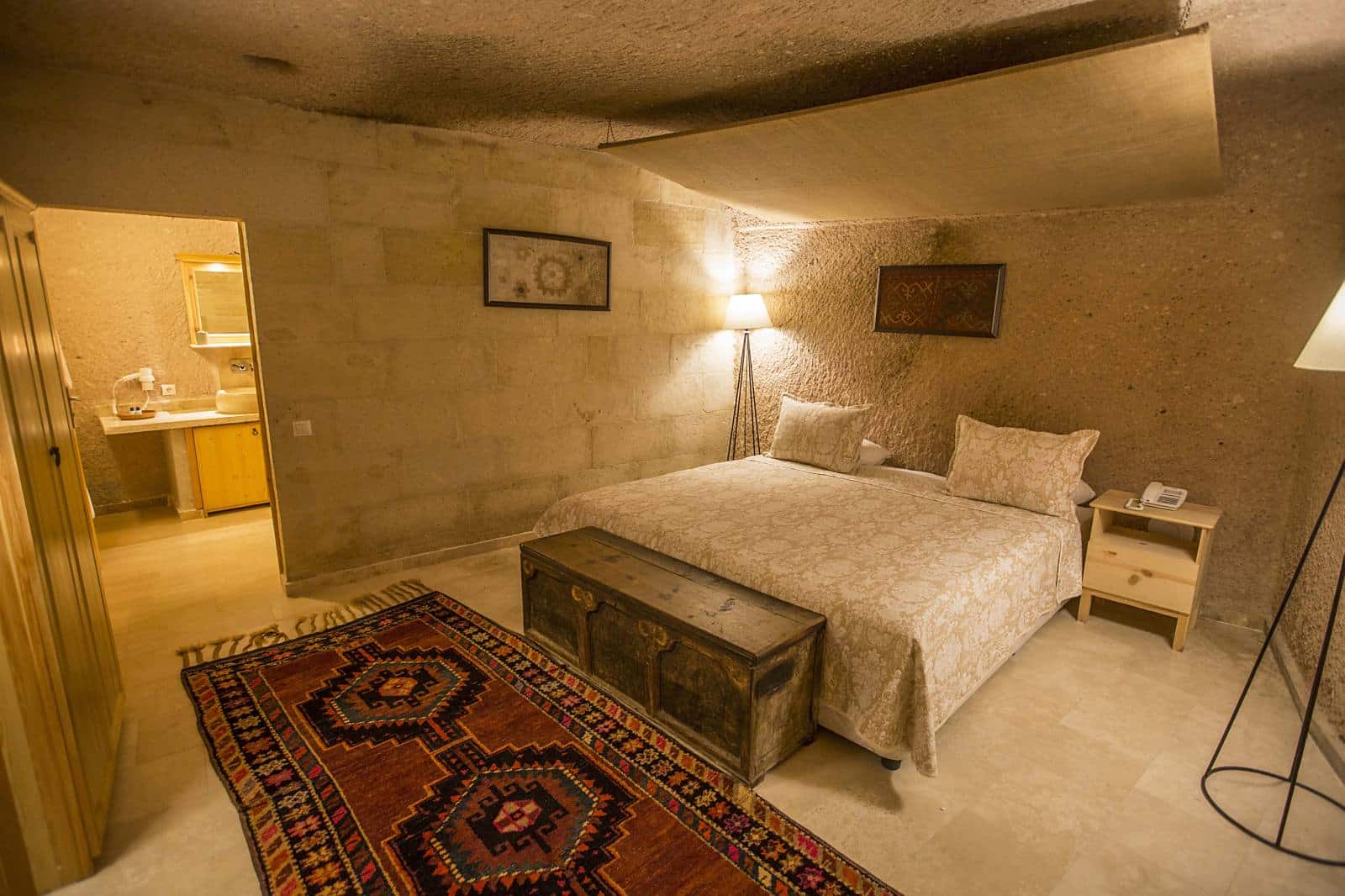 103 | Superior Cave Suite
Our suite, which consists of two rooms, is carved out of the rock.
104 | Superior Cave Suite
One of the first rooms on the upper floor with carved stone walls and traditional motifs.
105 | Family Cave Suite
With a structure of more than a century, one facade overlooks the valley of Güvercinlik, the other side of it has a unique form and two bedrooms and two rooms with two separate bathrooms.
106 | Family Cave Suite
With its own private terrace and separate entrance from the common areas, our room, which has a living space of 120 m2 and 2 bedrooms, is ideal for feeling the thousands of years history.
107 | Deluxe Room with Terrace
The arches built with traditional methods and cut stones cut from quarries in Uçhisar borders are among the most typical examples of local architecture.
108 | Deluxe Room with Terrace
Spacious room with a private terrace separated from our rooms on both sides, revealing a simple architectural line with a spacious bathroom.
109 | Deluxe Room with Terrace
This room presents the wonderful nature of Cappadocia as a carpet under our feet and visually presents a balloon feast which is fed with the dreams of childhood every morning.
205 | Premier Stone Room
A fireplace, Jacuzzi and unlimited romance; this cozy room is for your dream honeymoon…
206 | Romance Cave Room
A garden stretching out to the Güvercinlik (Vasil) Valley and our room carved from a few centuries old rock opening to the garden; It is a suite consisting of two spaces and gives our guests a centuries-old experience.